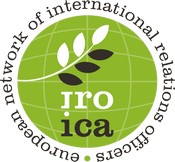 International Relations Officers' Network of the Association of European Life Science Universities
IROICA as a network of international relations officers was established in 1997 as an activity within the "DEMETER" Socrates Thematic Network project. In 1998, IROICA became a Standing Committee within ICA. Today IROICA has the status of a non-profit international association with its own statutes. The governing body is the IROICA General Assembly which meets annually at the time of the annual conference. The Executive Committee is elected by the General Assembly.
IROICA's main goals are to support and enhance the work of the international relations officers in the member institutions of the network by:
supporting the development of international cooperation by its member institutions
promoting and supporting international activities for undergraduate and post-graduate students, and for academic and administrative staff of their institutions
providing a pool of information about important developments in the field of international higher education
providing professional development for international relations officers in the field of academic international relations management
providing guidance for newly established international offices in relation to their overall profile and their principle tasks
disseminating outcomes from projects implemented by member universities
promoting internal quality assurance of institutional internationalisation strategies through the adoption of IROICA's standardised quality assurance procedures, and
providing intercultural communication training for international relations officers and administrative staff
At all times IROICA promotes quality and high standing in its activities, which are guided by a spirit of openness, human rights and democracy.
In order to achieve these goals, the IROICA network acts as a forum for discussion. IROICA convenes physical meetings and with electronic communication enables members to express their views and requests. IROICA also leads and participates in projects.
See IROICA website for upcoming conference IRO Communication and management of the Net Generation to be held at the Free University of Bozen Bolzano on 21 and 22 June 2012
Publications:
Delgado M, Hellgren S-L, Nielsen M, Vandecasteele H, Wojciechowska A and Heath S (2008). Handbook of good practice in the management of the academic studies and pastoral care of international Master students. Association for European Life Science Universities, Gent, Belgium, pp 45 .
Karlsson I, Mueller I, Atkinson H, Toborn J and Bengtsson (2004). Good practice for international relations officer. Interuniversity Consortium for Agricultural and Related Sciences in Europe, 2nd edition, pp55.
Heath S B (2004). Quality in internationalisation, the password for the future. Proceedings of the 8th European Conference for international relations officers at higher education institutions for agricultural and related sciences. Institute National Polytechnique de Lorraine (INPL), Nancy, France pp 43.
Mueller I (2000). International relations management at higher education institutions in agricultural and related sciences – contributions at IROICA workshops 2000. Interuniversity Consortium for Agricultural and Related Sciences in Europe, pp56.
For more information or contact:
Hilde Vandecasteele
IROICA Secretary General & International Relations Officer
International Training Centre
Faculty of Bioscience Engineering
Coupure links 653
9000 Gent, Belgium

tel.: +32 (0)9 264 59 17
eamil: This email address is being protected from spambots. You need JavaScript enabled to view it.