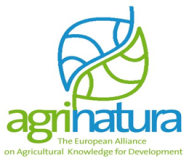 The European Alliance on Agricultural Knowledge for Development
Agrinatura is a grouping of European universities and research organizations with a common interest in supporting agricultural development in a sustainable manner in order to improve people's lives.

Agrinatura represents the major research and education stakeholders in Europe dealing with agricultural research and higher education for development.

Agrinatura brings its collective resources to work in partnership with international collaborators. It seeks to nurture scientific excellence through joint research, educational and training programmes and projects and advocates for greater support for agricultural research and educational programmes that contribute to the achievement of the Millennium Development Goals and the new agenda of Sustainable Development Goals.

Agrinatura has two pillars - an Association, open to all European agricultural research and education organisations, and a European Economic Interest Grouping (AGRINATURA-EEIG), as its operational arm. AGRINATURA was established in 2009 form the joining forces of NATURA and ECART-EEIG.

NATURA as the Network of European Agricultural (Tropically and Sub-tropically oriented) Universities and Scientific Complexes Related with Agricultural Development established in 1988 has celebrated its 20th anniversary of active participation in agricultural education and research issues. NATURA has been collaborating with ICA for long time and became an ICA Standing Committee in 2005.

ECART-EEIG was the European Consortium for Agricultural Research in the Tropics, which offered European research skills and expertise in agricultural research for development (ARD) in an accessible manner and encouraged effective co-ordination of research activities within Europe. It was mainly a consortium of research institutes.

NATURA decided in 2009 to join forces with ECART-EEIG and became AGRINATURA. It presently involves 35 members from 16 European countries. AGRINATURA gathers together the most important European universities, training and research centres that are involved in tropical and subtropical agriculture.

Agrinatura´s activities working on agricultural research, education, training and capacity strengthening for development will lead to:
• Enhancing the access to European expertise, experience and infrastructures;
• Improving linkages of European agricultural research and education within the global system;
• Increasing advocacy;
• Increasing synergies between research, education and development;
• Enhancing the role of small and new European Union (EU) Member States;
• Strengthening partnership of the European ARD community and expertise to the European Commission.
Agrinatura contribute to achieving the new agenda of Sustainable Development Goals (SDGs). Specifically, Agrinatura play an active role in:
• Advocating policy for agricultural research and education for development in Europe and worldwide;
• Developing, strengthening and encouraging strategic alliances, partnerships and networks with and between the diff¬erent stakeholders (institutions, organisations and individuals) in development;
• Organizing, facilitating and implementing joint participation in European and international programmes and projects;
• Providing support and advice for evidence - based policy making, in particular at the European level
J. Mabel Hernández Altamirano
Secretary General
University College Cork
Cork
Ireland (IE)

E-mail: This email address is being protected from spambots. You need JavaScript enabled to view it.